ESG, cyber security, and the digital revolution, oh my! Boards now face increasing pressure to weigh in on a broader range of issues beyond the traditional mandate of approving the strategy and overseeing CEO succession planning.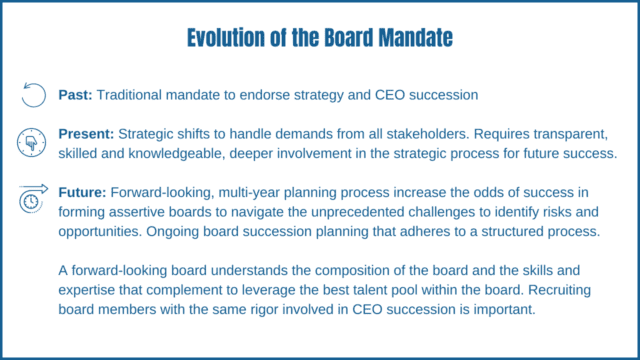 In today's business climate, boards are challenged like never before. Board of directors have a critical role to play in shaping the future of their organization with an assertive voice. Innovate or Lose the Edge. A strong, independent, diverse, technologically savvy and socially responsible board can serve as a critical asset to achieve strategic outcomes for the executive team.
Below we touch on the seven key priorities to build an optimal board and maximize its effectiveness for long-term value creation. In the following weeks, a deep dive will be taken into each of these important topics.
Board Composition and Succession Planning
Question: Boards are not adequately discussing board refreshment and succession planning. Is their discomfort with the sensitive topic getting in the way of doing what is best for the board and organization?
Answer: A forward-looking board would adopt a multi-year planning process given the transformation in governance. Ongoing board succession planning that adheres to a structured process is critical to optimal board composition and performance. Director tenure and succession planning are not discussed as key priority on board agenda. These are discussed only when the board needs to replace a retiring director. Clear expectations around board tenure and optimal mix of board tenure levels are critical to develop a board that is viewed as a key strategic asset to the organization.
Talent
Question: Talent provides a source of competitive advantage. Are board members challenging management to ensure the organization's talent pipeline can meet the needs of the strategy?
Answer: With business and governance landscape evolving, it is critical to ensure that the talent pipeline meets the needs of the organization's strategy and in meeting strategic and tactical shifts. Boards have a significant role to play in developing talent that goes beyond CEO succession.  As digital revolution continues, executive teams need value-add board members in understanding new technologies shaking up consumer behavior or new geographies for entry markets to retain the leading edge. Board discussions are centered around the important question "Do we have the right talent to fulfill the strategy? Upgrading CEO succession planning that installs effective leadership that is nimble in a rapidly changing economic, geopolitical, regulatory and business environment is critical. Human capital is strategic, and it is a real source of competitive advantage.
Board Effectiveness for Long Term Value Creation
Question: How can boards best focus their time and energy to make a true impact to long term value creation?
Answer: High performing and high impact boards have made significant tactical changes to their operating models in the following key areas in recent years.
Taking proactive approach to seeking relevant information beyond provided by management.
Better induction training to be effective in their role.
Formal evaluations and assessments of individual and overall team effectiveness.
Board agenda dedicated to non-executive director discussion to increase accountability.
Chair role that effectively and efficiently runs meetings with a clear agenda that balances both fiduciary and strategic priorities.
Digital Savvy Board
Question: Are boards digitally savvy to identify opportunities and nontraditional threats with the acceleration in digitization?
Answer: In an era of digital transformation being digitally conversant is becoming a necessity for a Board. Companies that are digitally savvy have greater odds of outperforming financially. Recruiting one or even two digitally savvy board members makes no measurable impact on performance. Companies with three digitally savvy directors had significantly increased performance with better strategic discussions and deeper conversations around growth-oriented digital opportunities. Digital savvy board director talent pool could come from Chief Information Officers, members with track record of transformational success with digitization in other industries such as information technology, media or venture capital companies with digital company founders.
Board talent that understands nontraditional threats in the business landscape where digital business migrate into new sectors requires creativity to utilize more sophisticated AI and machine learning driven analysis to better understand trends.
Cybersecuruity
Question: Cybersecurity is no longer an IT or compliance issue. How can boards play an instrumental role in navigating regulatory responsibilities, cyber risks and responses?
Answer: With an acceleration in digitization, organizations that have planned cybersecurity implications systematically are well ahead and better positioned. This issue should become a critical conversation between board of directors and executive team to ensure a structured plan is in place. The real questions shift from whether the attack is going to happen and the preventive measures to when it may take place, if proper detection measures are in place. Mitigation strategies to return operations to normalcy as quickly as possible need to become a dialogue in boardrooms. Boards need to take an assertive role in challenging and testing processes ahead of incidents.
Environmental, Social and Governance
Question: Do existing ESG disclosures contain high quality, consistent and quantifiable information that can help all stakeholders including meeting regulatory requirements?
Answer:  ESG has evolved from being a peripheral topic to one that is central in the boardroom due to heightened focus from a variety of stakeholders including CFPB regulatory requirements. ESG oversight ensures management's strategic plan takes advantage of market opportunities while addressing material risks. The evolving regulatory environment and proposed SEC rules for cyber and climate related disclosures require companies to take immediate action. This changing requirement shifts the responsibility to the board of directors to ensure that management allocates adequate resources to meet the demands.
Diversity and Inclusion
Question: Diverse boards can bring unique and valuable insights integrating different perspectives. How can diversity achieve the desired outcome?
Answer: Boards can play a powerful role of agents of change. Diversity can benefit an organization if the inclusion process is managed well. Diversity initiatives alone do not produce meaningful results unless we embrace inclusion. Well managed diversity initiatives undertaken by boards can lead to collaborative and inclusive way of working together as board of directors. Instead of focusing on diversity produces better outcomes, it becomes very important to understand to become "best of best" we have to be diverse and managed well. Some boards are good at gender diversity but not racial or ethnic diversity. The most effective boards recognize that each type of diversity requires a different journey to be successful. Each director can become an advocate for well managed diversity and gain support more than anticipated from conversations around the table.
We are putting you in control to future-proof your board with the seven key checklist priorities. These impactful insights empower you to conduct quality dialogue in boardrooms to build effective boards and create long-term success.
Don't miss out on our upcoming series of Board Insights articles to be released over the next few months. These articles will provide you with valuable insights, strategies and key takeaways that can help you stay ahead of the curve in today's evolving Banking & Fintech industry. Subscribe to our mailing list here to follow along!